School Travel Plan
Claytons has a School Travel Plan (STP) in line with the government's strategy for reducing single occupancy car travel to and from school. Our plan is developed, maintained and monitored by the school community via
the STP Working Group and the JRSOs to promote and facilitate sustainable travel for the school journey, and this year the school has gone from Bronze to Gold Award level recognition from the national school travel planning organisation Modeshift Stars. The STP plans practical initiatives and measures to encourage active, healthy, safe and sustainable travel as an alternative to single occupancy car use. Increasing sustainable travel helps to reduce congestion and pollution, as well as improving the health and fitness of the children.
Parents and carers can help by travelling sustainably to school as often as possible, and when using the car by driving slowly and safely around the school area, using the one way system around Burroughs Crescent and by parking responsibly (particularly not across our neighbours driveways).
The STP Working Group runs initiatives and campaigns designed to support these objectives, including:

Walk three times a Week (WoW) – an initiative from the charity Living Streets providing a website into which the children input how they travel to school every day. The data is managed by the JRSOs and badges are awarded every month to children who have walked once a week or more to school.
Footsteps – a Bucks CC practical pedestrian training scheme for young children. Delivered by volunteers led by parent Helen Fisher, Yr 1 and Yr 2 children are led in small groups through a series of discussions and practical sessions to help develop their road safety awareness, leading to Stage 1 and Stage 2 certificates.
Scooter Skills – run for the first time in 2014, this training is designed to help young children learn how to scoot safely and increase their road safety awareness.
Bikeability cycle training - the Government approved cycle training scheme. Delivered by qualified external trainers, children in Yrs 5 & 6 learn how to cycle safely on the roads.
Walk to school campaigns – like Shoesday Tuesday, designed to promote walking in a fun way as a sustainable mode of travel to school
Road safety campaigns – like Be Bright Be Seen, designed to increase road safety awareness
Parking campaigns – like the Park and Stride day run alongside Shoesday Tuesday, when parents and carers are asked to park further away from school in order to reduce congestion in the immediate school area and allow the children the opportunity to walk to school with their friends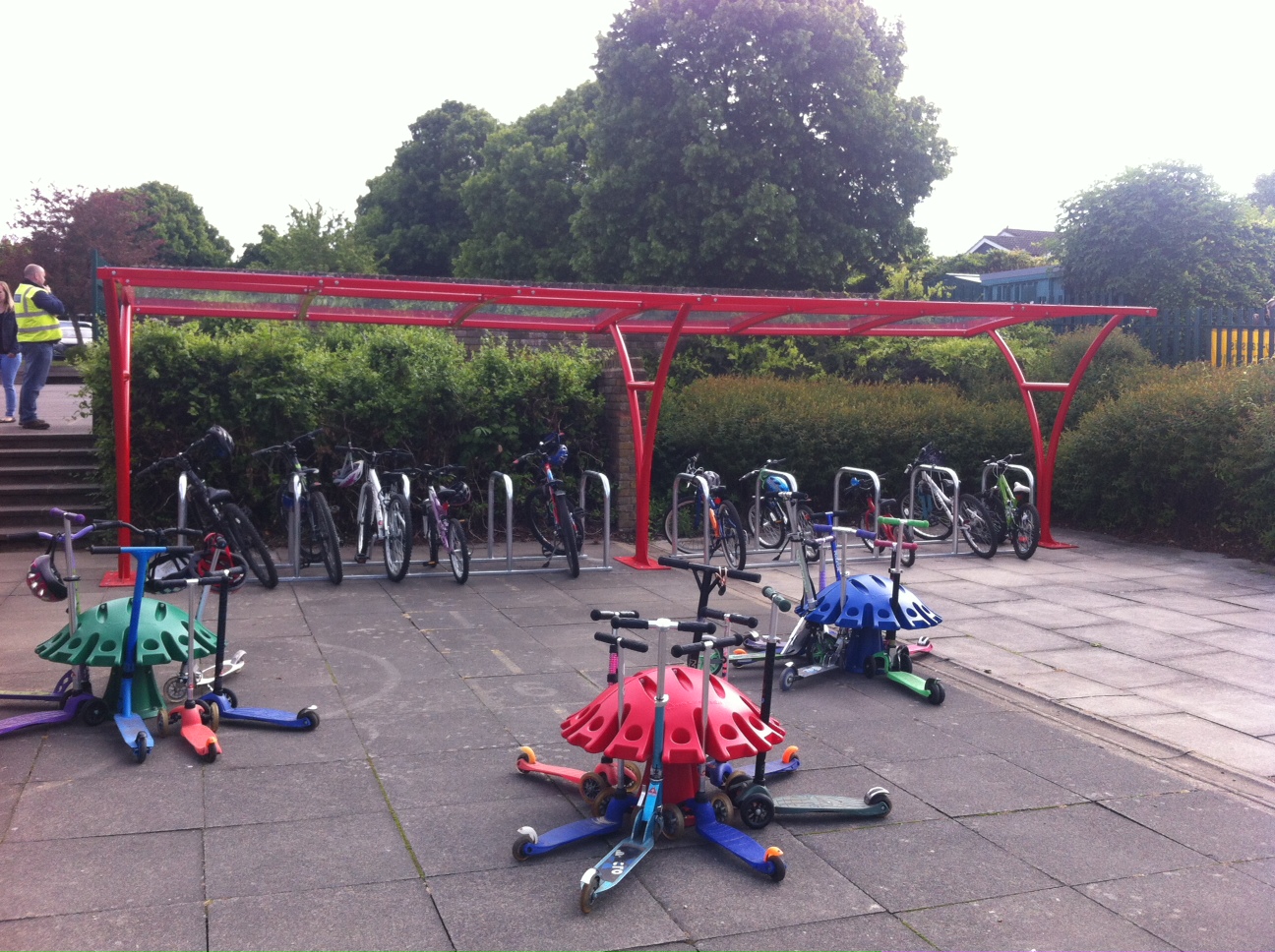 Bicycle / scooter storage – STP Working Group worked with the school and PTA to raise funds, design, purchase and install the new bicycle and scooter storage at the front of the school
Zebra crossing safety – the STP is working with the local parish and county councils and the police to make the zebra crossing safer by reducing speeds and making the crossing more visible to motorists. A Speedwatch group has been set up with Thames Valley Police to monitor the speed of cars along the main A4155 and work with motorists exceeding the limit. New Zeebrite beacons have been installed with funding from the Local Area Forum and the road markings have been re-painted.
If you would like to support any of these initiatives please contact the School Travel Plan Working Group co-ordinator Joanna Gallacher.